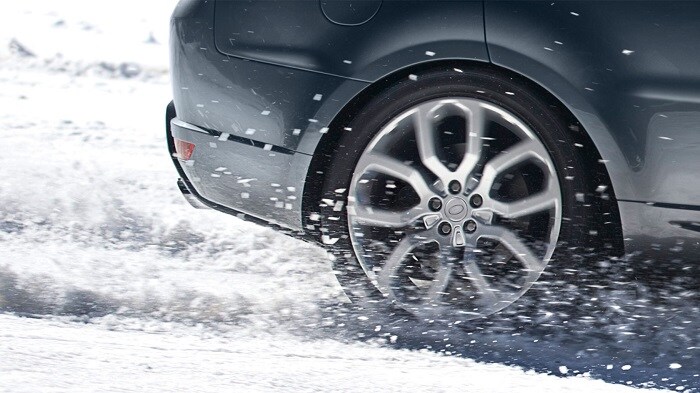 Winter service is never something that you want to let slide. When it is time for your Land Rover to have seasonal maintenance, you can trust in our team at Land Rover Indianapolis.
Driving your vehicle during the wintertime poses a unique set of challenges. While the Land Rover SUV is made to stand up to adverse driving conditions and wintry weather, you still need to think about seasonal maintenance. Winter service helps to make sure that all components are working as they should to keep you safe all season long. When it comes to winter maintenance, you can trust that our Land Rover service team at Land Rover Indianapolis is here to help.
These are a few of the more common services that we perform for automotive winterization:
Tire Inspection – The tires on your Land Rover should always have plenty of tread, proper inflation, and be free of cracks, bulging or any other damage. We can inspect your tires, rotate them for you, and mount and balance new tires if you need them. Our team will make sure that you have the right tires to get you through the wintry conditions this winter!
Anti-Freeze – Your vehicle needs anti-freeze to protect your engine components when the temperatures really begin to drop. We can check your anti-freeze levels and ensure that all of the lines are in good condition and ready to go.
Windshield Wipers – In addition to checking the rubber on your wiper blades, we can also set you up with a new set, if necessary. You need healthy rubber on the blades to cut through the slush and road grime that wintry roads can put on the windshield. In addition to the wiper blades, we will fill your washer fluid reservoir and ensure that the lines are clear, the clamps are in place, and everything is functioning properly.
Is there anything else that you are concerned about with your Land Rover Range Rover Velar, our factory-trained service technicians are here to help. You will find Land Rover Indianapolis located at 4620 East 96th Street in Indianapolis, IN or you can use our online service scheduling form to set up your appointment.